MSU Subjective Codecs Comparison 2017 Released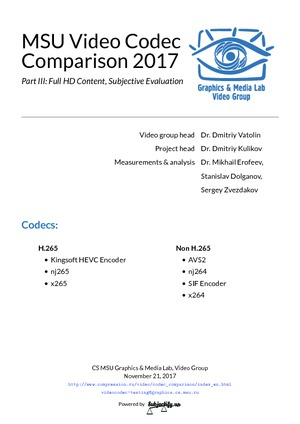 MSU Video group of Graphics & Media Lab has published Video Codecs Subjective Comparison Report 2017 devoted to comparison of modern video encoders according to subjective visual quality of encoded streams they produce. The report compares 7 software video codecs:
AVS2
Kingsoft HEVC Encoder
nj265
x265
nj264
SIF Encoder
x264
Subjectify.us platform was used to compute subjective quality scores of codecs under comparison. Compressed streams produced by encoders for various test video sequences and bitrates were uploaded to Subjectify.us and presented to study participants in pairwise fashion. The quality scores generated by the platform were then used to compute integral relative quality scores with methodology similar to one used by MSU Video Group in objective codecs comparison reports (see study report for details). The figure below shows the final overall scores gained by encoders.
MSU Video Group publishes its objective codecs comparison reports annually since 2003. In these reports modern encoders are compared by encoding speed, bitrate handling, and objective quality score estimated using objective quality metric (SSIM, PSNR). This year MSU Video Group extends the scope of its codecs comparisons and publishes above mentioned subjective comparison report alongside with its annual objective codecs comparison report.